Precision Makes all the DIFFERENCE
Clarus Engineering offers the Cila Fiber Optic Polishing and Inspection solution to improve the efficiency and precision of your polishing workflow. This bench unit is a workhorse providing turnkey precision polishing and inspection capabilities.
Fiber optic polishing expertise and experience:
Our strength at Clarus is the ability to meld our core engineering competencies with cutting-edge machine and instrument design expertise. Our machines are rugged, precise, flexible, and cost effective. They can be configured to accommodate virtually any fiber optic polishing & inspection requirement. All polished to industry-recognized or customer-specific standards. Include Clarus Engineering in your development plans today. Additional features and custom add-ons available, include the details in your request for more information and we will schedule a time to discuss your project details. Located in Princeton, New Jersey and providing nationwide solutions for the fiber optic industry.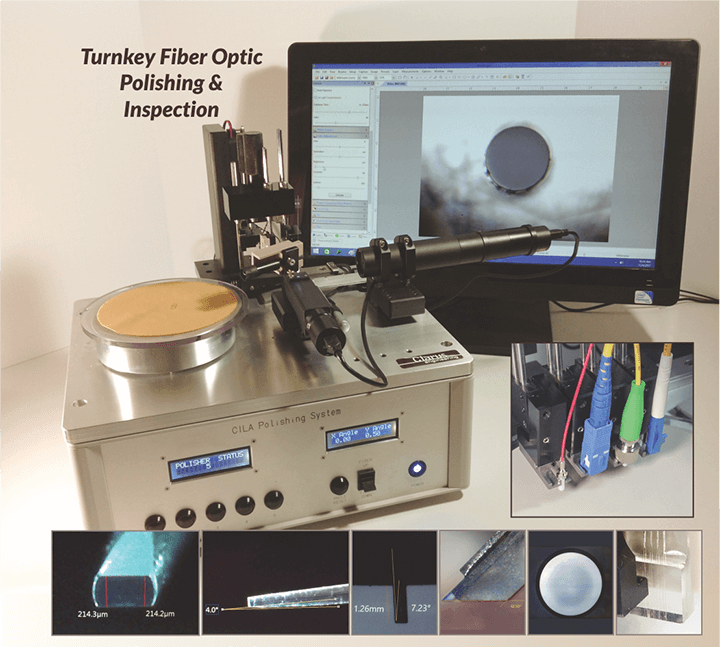 The Cila 2.0 Polishing System is our newest generation of fiber optic polishing workcell; offering precision polishing & in-line inspection solutions for a wide variety of optical devices. Automatically polish, then inspect end face quality, measure polish and parasitic angles along with linear dimensions, while still in the machine.
Did we pique your interest?
Clarus Engineering is highly regarded globally for our innovations and high technology products in the fiber optics and electro-optics industries.
Corporate Office
Clarus Engineering
213 Carnegie Center Box 7227
Princeton, New Jersey 08540
Phone: 732 406 3291